www.teddybaer-antik.de
Steiff " Teddy-Baby " 1929 - 1960
Teddy Baby gehört zu den beliebtesten Teddybären der Firma Steiff.
Teddy Baby is one of the most sought-after bears Steiff ever made.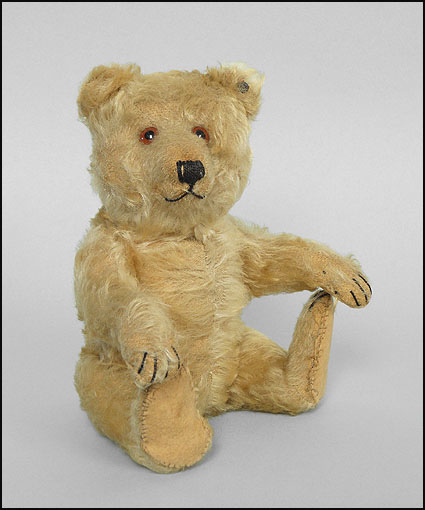 Teddy Baby 6322 aus der frühen Fertigung um 1929/32.
A very early Teddy Baby 6322 from 1929/32.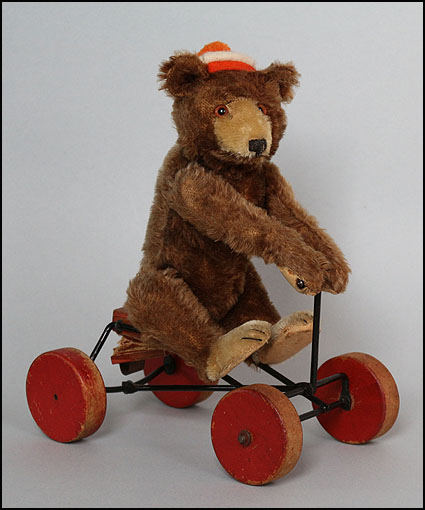 Das gesuchte Record Teddy Baby 325 von 1929/31.
The sought-after Record Teddy Baby 325 from 1929/31.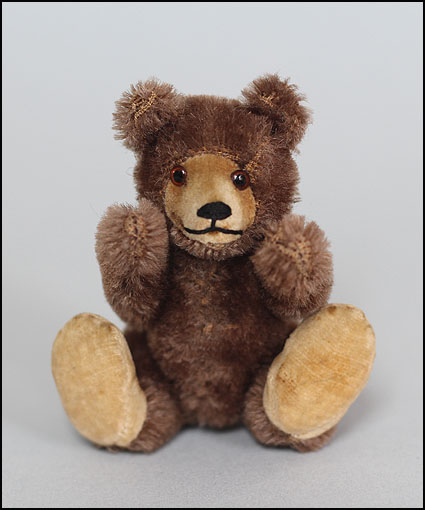 Teddy Baby 7309 wie es in den Jahren nach 1935 hergestellt wurde.
The smallest Teddy Baby 7309, made in the years after 1935.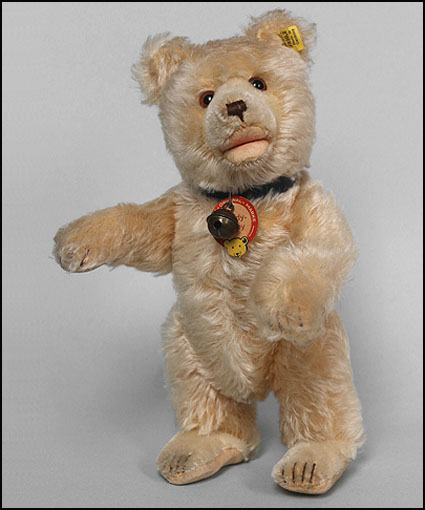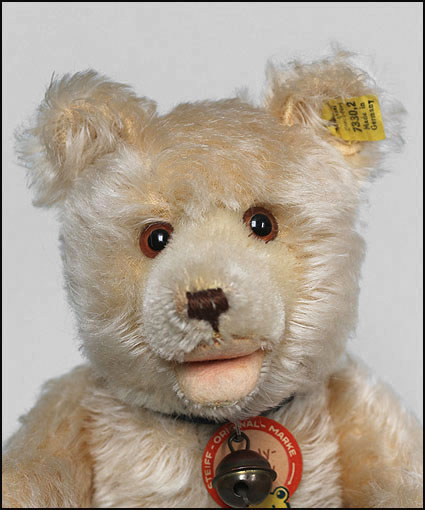 Teddy Baby 7330,2 von 1939 aus der Fertigung kurz vor der Umstellung
auf Kunstseidenplüsch.
Teddy Baby 7330,2 from 1939, one of the last ones made from mohair
plush before artificial silk plush was used.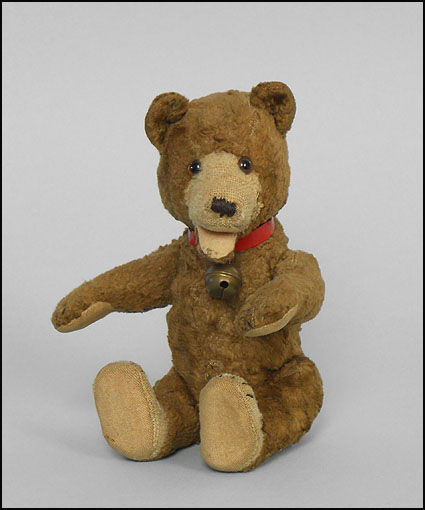 Teddy Baby 7622 von 1940/43...
Teddy Baby 7622 from 1940/43...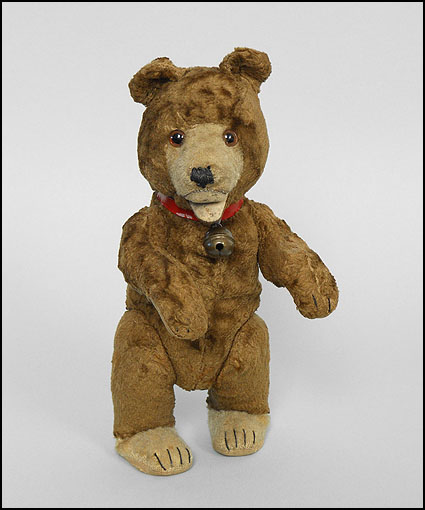 ...Teddy Baby 7630,2 von 1940/43...
...Teddy Baby 7630,2 from 1940/43...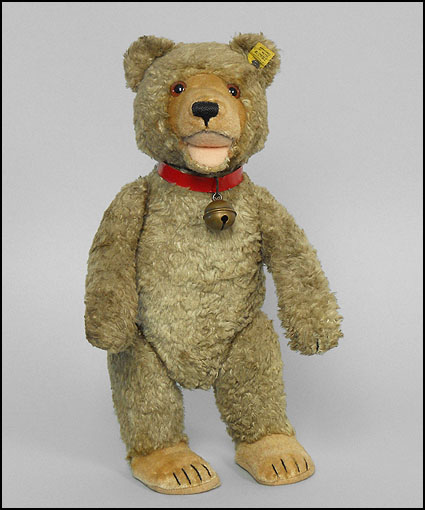 ...und das Teddy Baby 7638,2 von 1940/43, alles extrem seltene Exemplare
der ersten Generation Kunstseidenplüschbären.
...and Teddy Baby 7638,2 from 1940/43, all three extremely rare bears from
the first period of artificial silk plush substitute bears.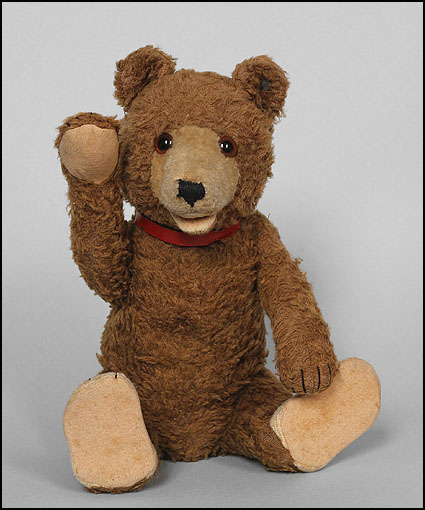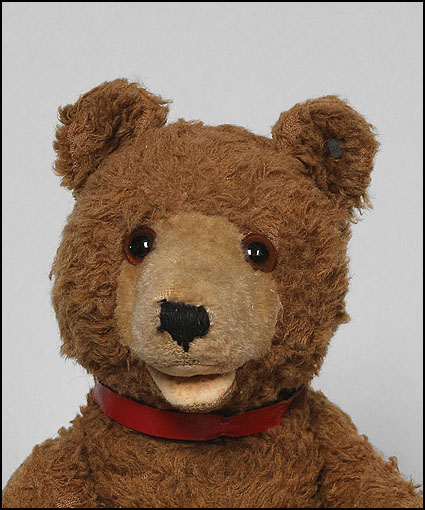 Ein Teddy Baby Artikel 7538,2 aus der direkten Nachkriegsproduktion von 1947.
Für diese sehr seltene Ausführung ist kein Katalognachweis bekannt.
Teddy Baby 7538,2 from 1947 is not mentioned in the Steiff catalogues.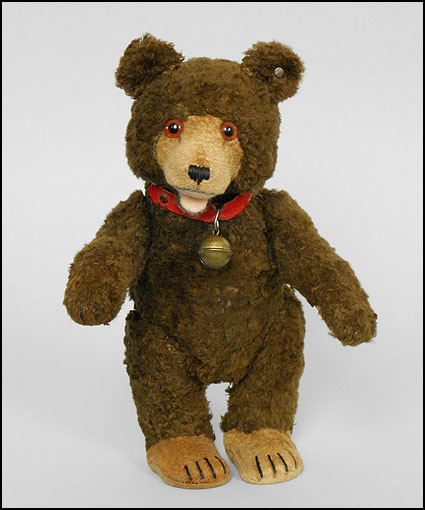 Teddy Baby 7630,2 von 1949, der zweiten Generation Kunstseidenbären.
Teddy Baby 7630,2 from 1949, the second period of artificial silk plush bears.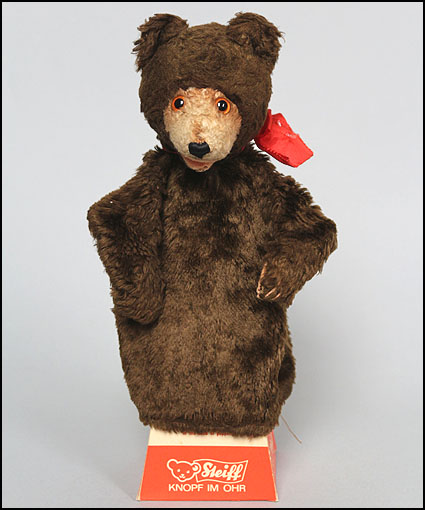 Das Hand Teddy Baby 617 von 1949 aus Kunstseidenplüsch gehört zu den
seltensten Handspieltieren der gesamten Nachkriegsproduktion.
The glove puppet Teddy Baby 617 made from artificial silk plush
is one of the rarest puppets Steiff made after 1947.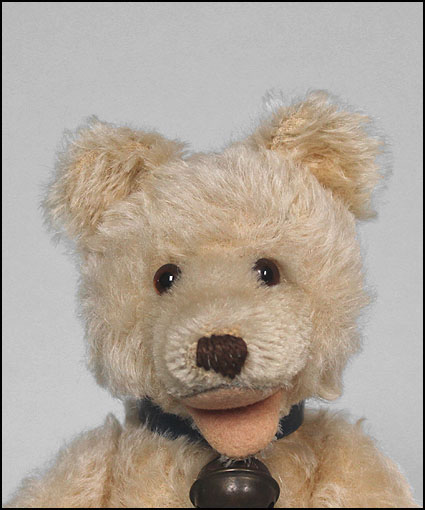 Einer der ersten Mohair-Artikel der Zeit nach dem zweiten Weltkrieg
ist das Teddy-Baby 7322 von 1949 mit US-Zonen-Fahne.
One of the first pieces Steiff made in the good old mohair quality again
was Teddy Baby 7322 from 1949. These first bears have a US-zone label, too.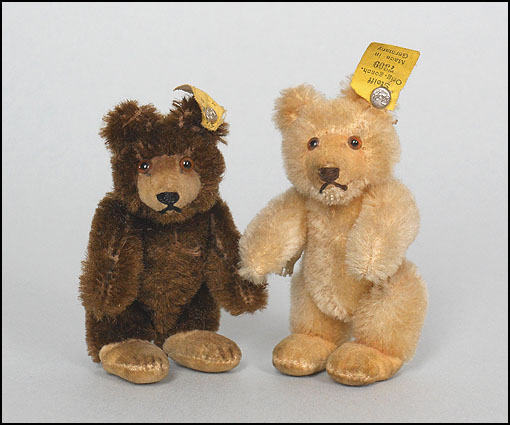 Die kleinsten Teddy-Babys 7309 in dunkelbraunem Mohair, um 1955 und
mais, um 1951.
The smallest Teddy Baby 7309 with dark brown mohair from c.1955 and
maize, c.1951.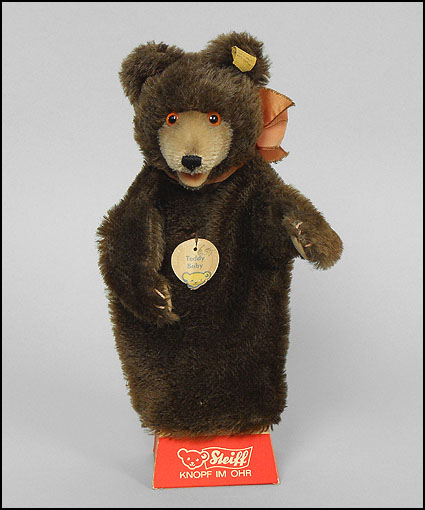 Die Handpuppe 317, hier aus dem Jahr 1956, ist mit "Teddy Baby"-Schild
schwer zu finden.
It is not easy to locate the glove puppet 317, here from c.1956, with
an original "Teddy Baby" chest tag.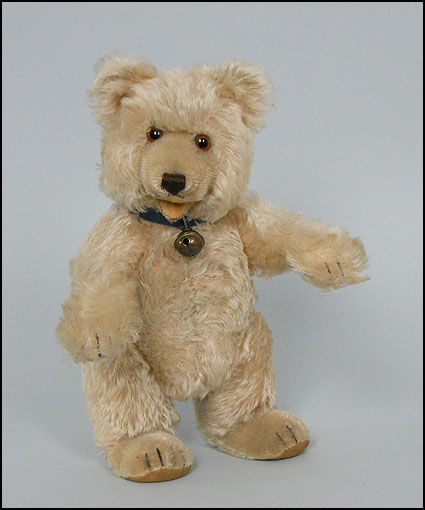 Teddy Baby 7328,2 aus den letzten Produktionsjahren 1956/57. Die Farbe
heisst nun "honig" und nicht mehr "mais".
The color of the latest Teddy Baby, here 7328,2 from c.1956/57 is called
"honey" instead of "maize".