www.teddybaer-antik.de
Steiff Bären: 1960 - 1969
Steiff bears: 1960 - 1969

Die 60er Jahre bergen eine Fülle an sehr seltenen Teddybären.
Dralon-Bären werden immer gefragtere Spielzeuge.
Ab etwa 1961 gibt es Steiff-Bären auch mit Kunststoffaugen.
In the 1960s Steiff made various bears that are quite rare today.
Artificial DRALON plush becomes more and more common.
Plastic eyes were introduced in c.1961 for some bears and animals.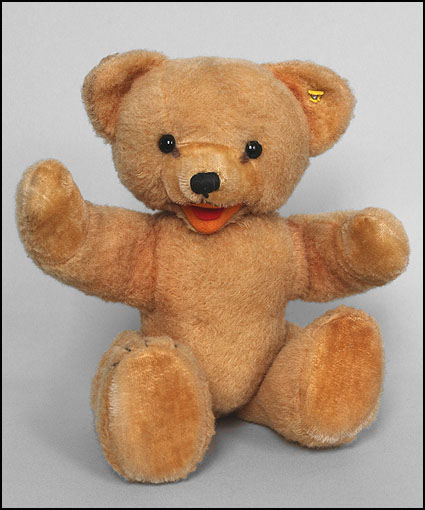 Der Steiff Bärenmarke Teddy aus dem Jahr 1960.
Von ihm sollen in diesem Jahr nur 614 Stück hergestellt worden sein.
A Steiff advertising teddy for bear brand milk.
It is said that only 614 pieces were made in this year.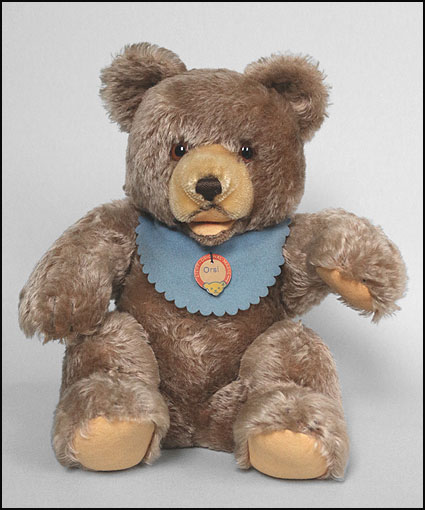 Dieser wunderschön erhaltene Orsi in der zweiten Größe ist sehr selten.
Er wurde nur kurze Zeit - von 1958 bis 1962 - als Artikel 4335,00 hergestellt.
This wonderful bigger Orsi is not easy to find, especially in good condition.
He was made as article 4335,00 for just a short period from 1958 until 1962.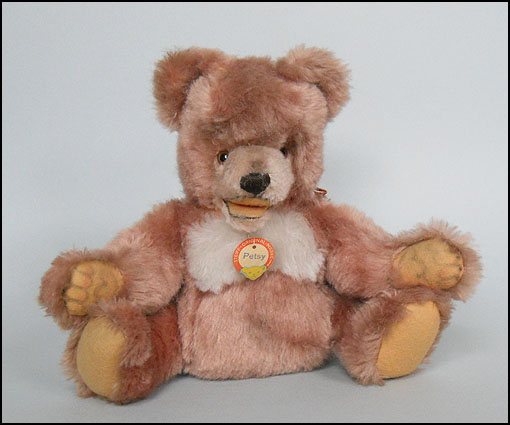 Den sitzenden Petsy aus Dralonplüsch gab es in drei Größen von 1961 bis 1963.
A sitting Petsy was made for only three years, from 1961 - 1963.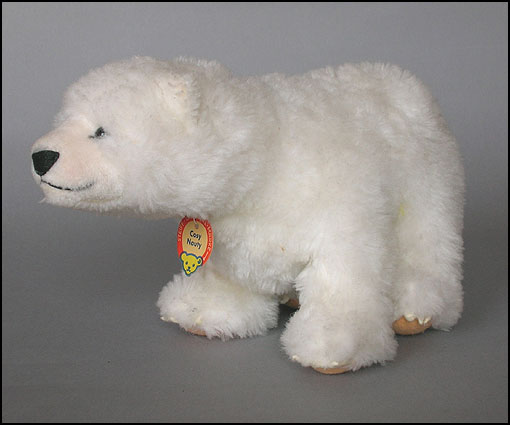 Cosy Nauty 6622,00 wurde von 1963 bis 1966 hergestellt und ist in gutem
Zustand mit originalem Brustschild recht selten.
Cosy Nauty 6622,00 was only made for a short period from 1963 to 1966
and like all white bears he is not easy to find in good condition.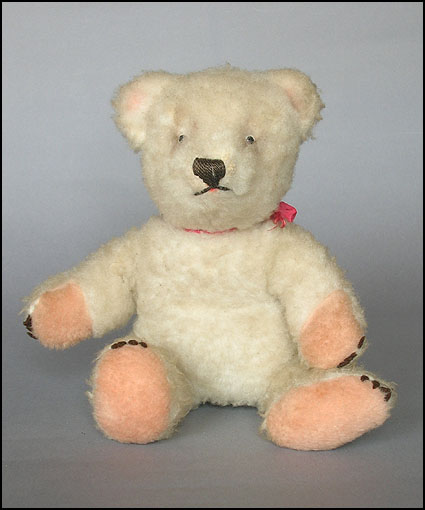 Cosy Teddy 6628,04 von 1964 war nur ein Jahr im Programm und gehört
zu den seltensten Dralon-Artikeln der Firma Steiff.
One of the rarest artificial plush bears made by the Steiff company is
Cosy Teddy 6628,04 who was only made for one year in 1964.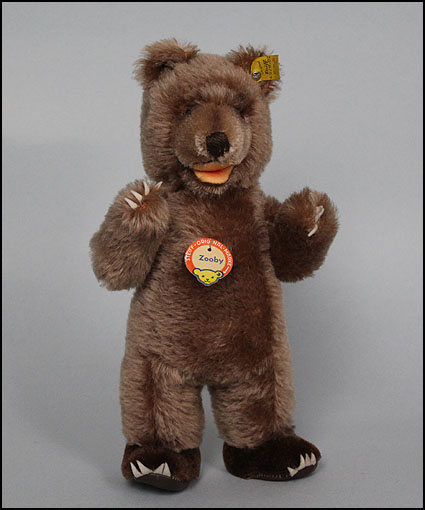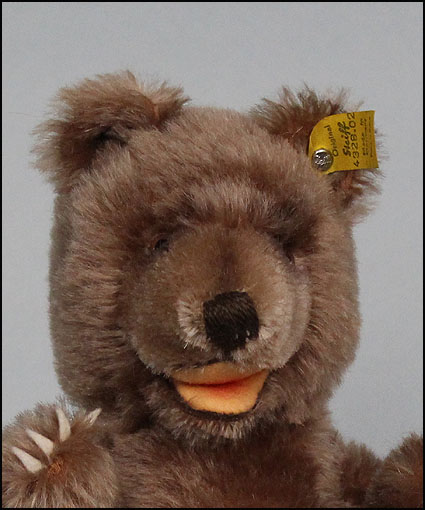 Zooby 4328,02 von 1964/66, ein echter Zoo-Bär mit Krallen.
A real zoo-bear with claws is Zooby 4328,02 from 1964/66.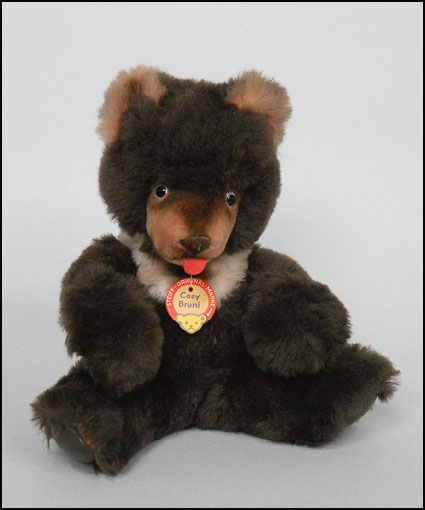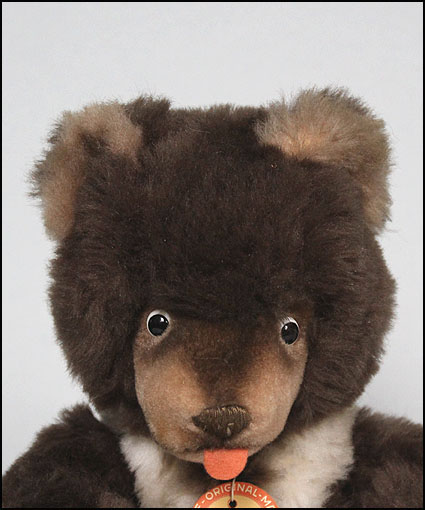 Cosy Bruni 5625,03, ein sehr seltener Kragenbär aus Dralonplüsch von 1965/66.
Another rare artificial plush bear from 1965/66 is Cosy Bruni 5625,03.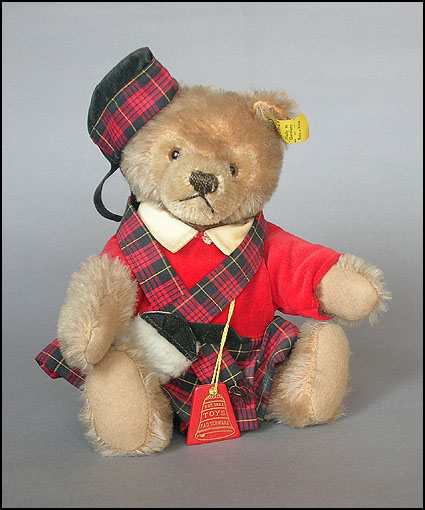 Scotty-Bear oder "mcteddy" 5326,02 von 1967 wurde nur von
FAO Schwarz in New York angeboten.
Scotty bear 5326,02 was only sold by the famous toy store
FAO Schwarz in New York.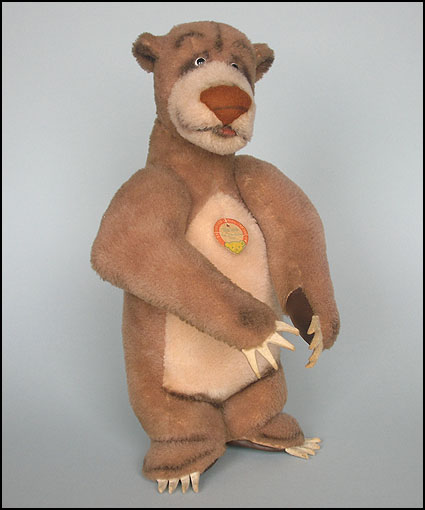 Bär Baloo aus dem Walt Disney Film "Das Dschungelbuch" (1967),
in der ersten Steiff-Ausführung aus dem Jahr 1968.
Bear Baloo from the Walt Disney production "The Jungle Book" (1967),
this is the first of several Steiff models, introduced in 1968.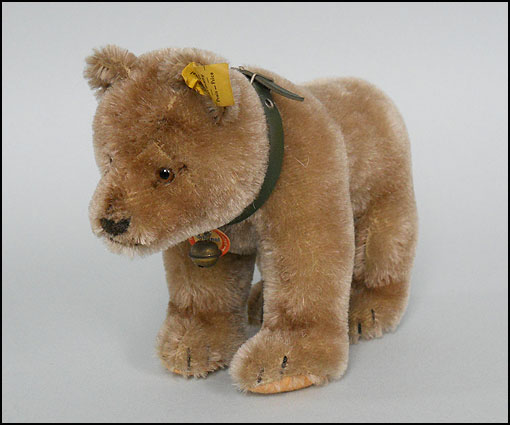 Stehende Jungbären gab es schon in den frühen 50er Jahren; hier
ist eine späte Ausführung 0400/17 von 1968.
A standing bear cub called young bear was introduced in the early 1950s,
here is a later version from c1968.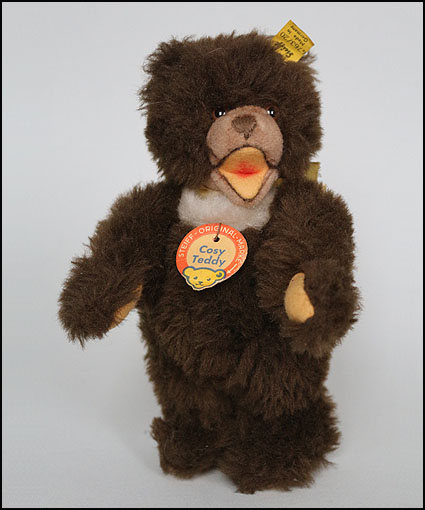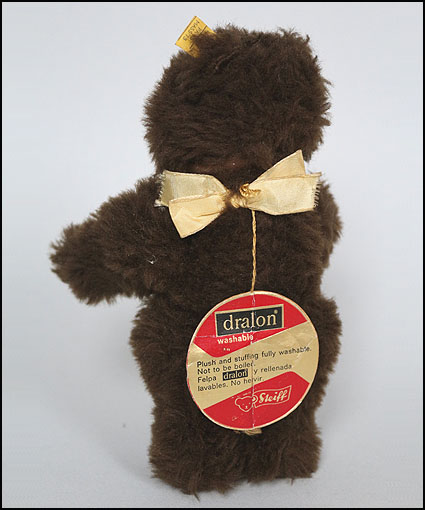 Cosy Teddy 4763/20 in der dunkelbraunen Ausführung ist eine Neuheit von 1968.
Er wurde nur bis 1973 hergestellt und ist der seltenste Teddy dieser Serie.
Cosy Teddy 4763/20 as a dark brown version is a 1968 new line.
This size and color was only made until 1973 and is the rarest of this series.

Copyright: Daniel Hentschel