www.teddybaer-antik.de
Steiff Bären: 1902 - 1919
Steiff bears: 1902 - 1919

Im Jahr 1902 hat Richard Steiff den gegliederten Spielzeugbären erfunden.
Bis heute ist noch kein Exemplar des Urteddy "PB55" in Sammlerkreisen aufgetaucht!
In 1902 Richard Steiff invented the moveable toy bear.
This first string-jointed bear was called PB55 and does not exist anymore.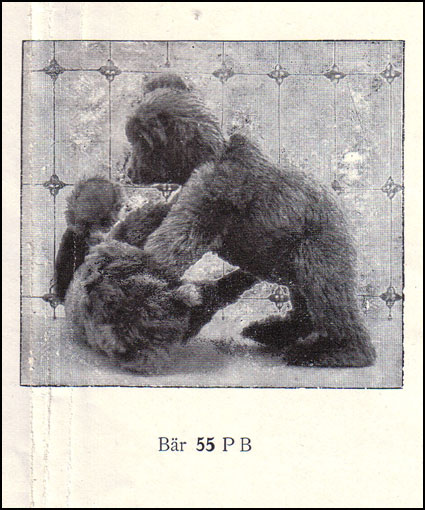 Der Urahn aller gegliederten Teddybären: Bär 55PB, hier auf dem Neuheitenblatt 1903/04.
The first movable toy bear PB55 on a new lines sheet from 1903/04.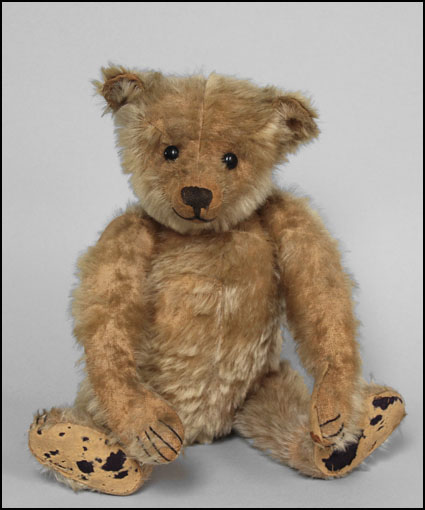 Bärle PAB 5328,1 von 1905 mit seltener Mittelnaht und blankem Knopf.
Baerle PAB 5328,1 with rare center seam and blank button from 1905.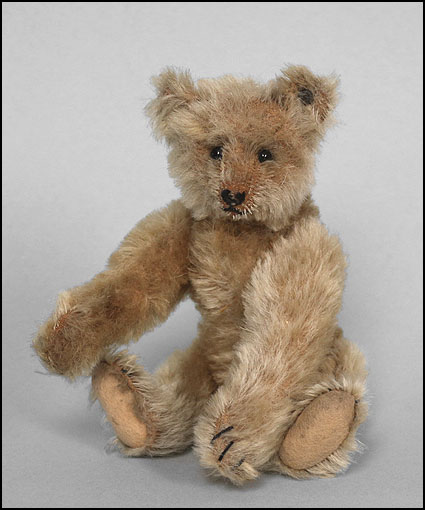 Teddy 5315 mit 22cm Stehgröße ist eine Neuheit des Jahres 1906.
Teddy 5315 - standing 22cms - is a 1906 new line.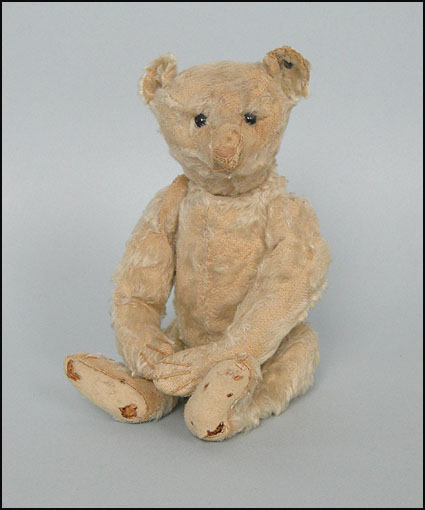 Dieser 32cm große, weiße Teddy 5322 von 1908 hat eine ganz besondere Geschichte.
Er wurde in diesem Jahr in Berlin für einen Giengener Jungen gekauft, der Heimweh nach
dem kleinen Ort an der Brenz hatte.
This white bear with a special history was bought in 1908 for a homesick boy from Giengen
who spent his holidays in Berlin.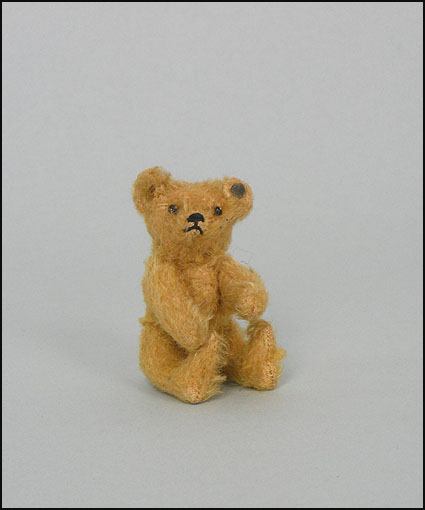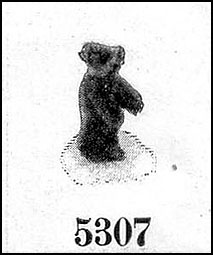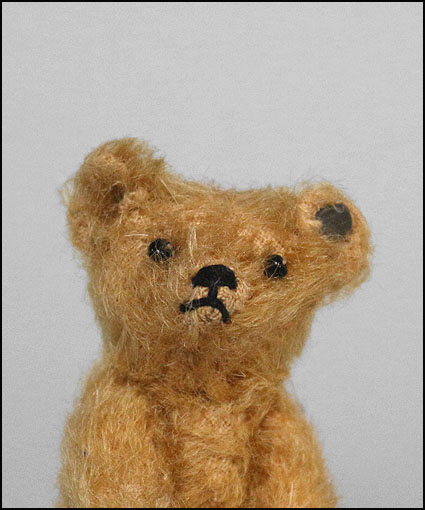 Die kleinsten gegliederten Steiffteddys 5307 sind eine Neuheit des Jahres 1909.
The smallest early Steiff bears 5307 are a new line from 1909.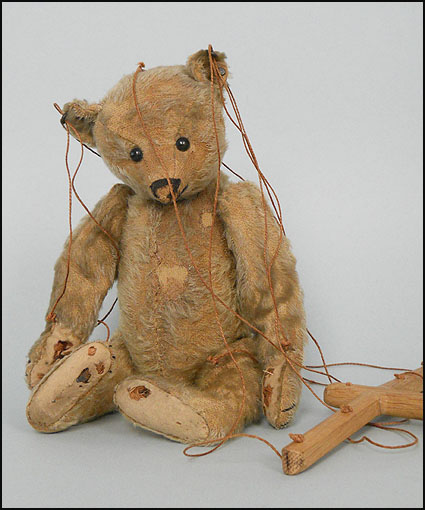 Der kleinere Pantom-Bär 5325P, von ihm wurden von 1910 bis 1913 nur 605 Stück hergestellt.
The smaller so called Pantom bear 5325P as a puppet on a string was made in only 605 pieces
between 1910 and 1913.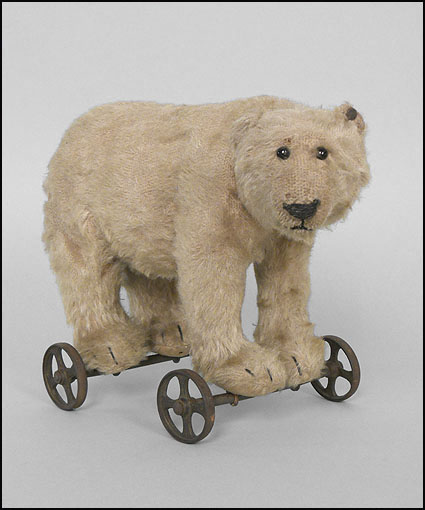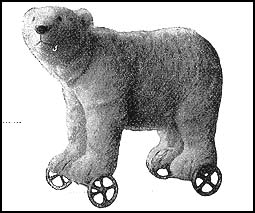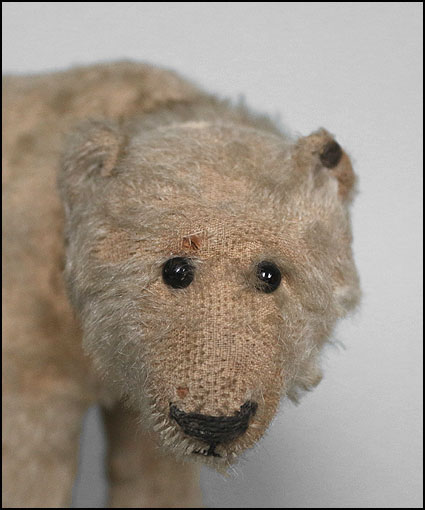 Eines der schönsten Rädertiere: Der Polarbär 1328 aus der Zeit 1910 bis 1917.
One of the most interesting bears on wheels is this polar 1328 from 1910 until 1917.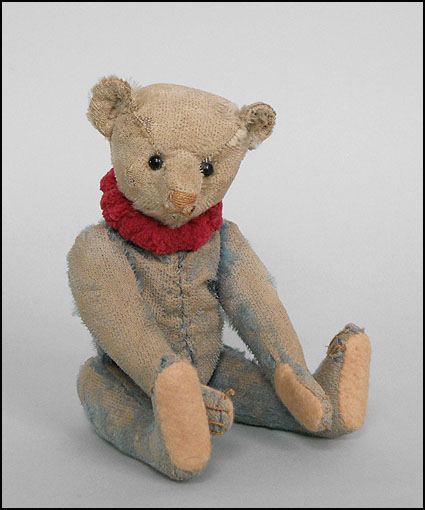 Ein 25cm großer blauer Dolly-Bär 5317 aus der Zeit 1913 - 1918. Er ist bespielt
aber es ist weltweit kein weiteres blaues Exemplar in dieser Größe bekannt.
A very rare Dolly bear 5317, made between 1913 and 1917.
This one is played-with but the only blue Dolly that is known in this size.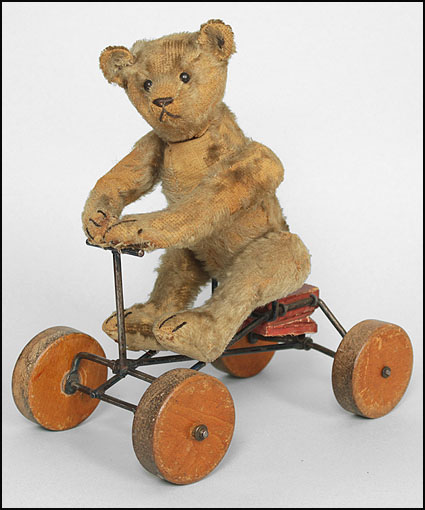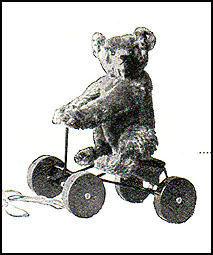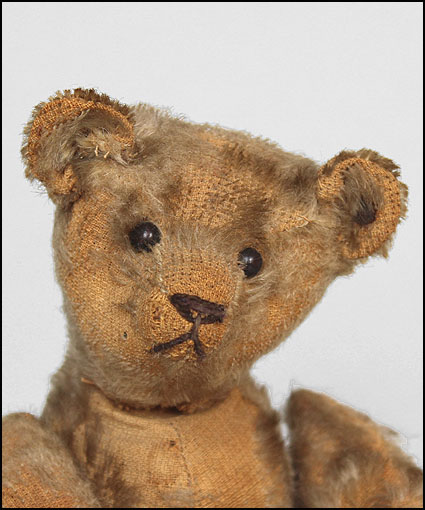 Der mobile Rekord Teddy 25, eine Neuheit aus dem Jahr 1913.
The so called Record Teddy 25, an irish mail driver, is a 1913 new line.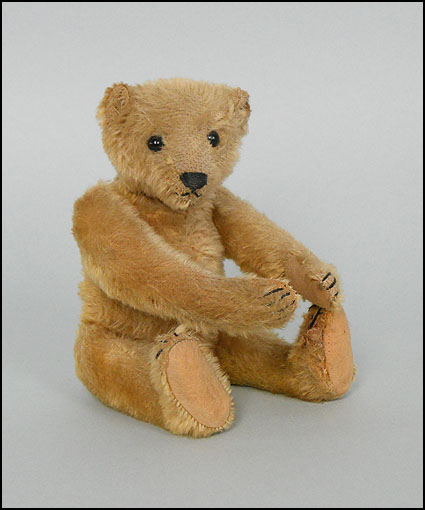 Ein 25cm großer Steiffteddy 5317 aus der Zeit um 1915.
A 10 inch Steiff teddy bear 5317 from c.1915.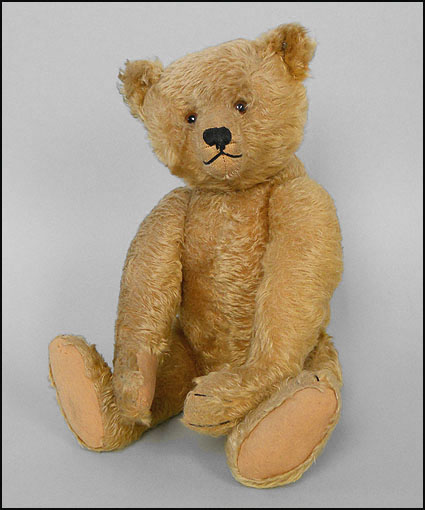 Ein 46cm großer und unbespielter Teddy 5332,2 aus der Zeit um 1917.
A very nice and unplayed-with teddy bear 5332,2 from about 1917.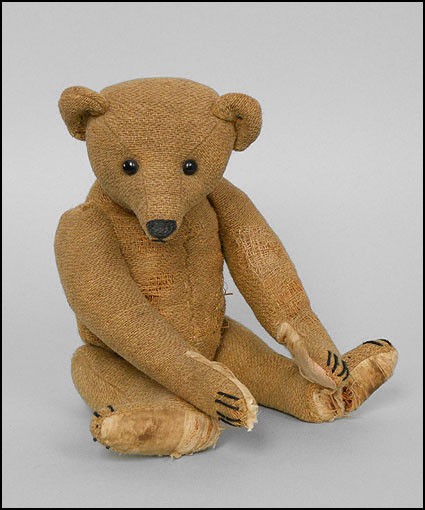 Die Ersatzplüschbären aus der Zeit 1919 - 1921 gehören heute zu den seltensten
Teddybären überhaupt. Hier die Version "Kurzplüsch" 5225,2 mit 35cm Größe
Some of the rarest Steiff bears are the original substitute bears from 1919 - 1921.
This is one of the two known materials from this period, called sealskin 5225,2.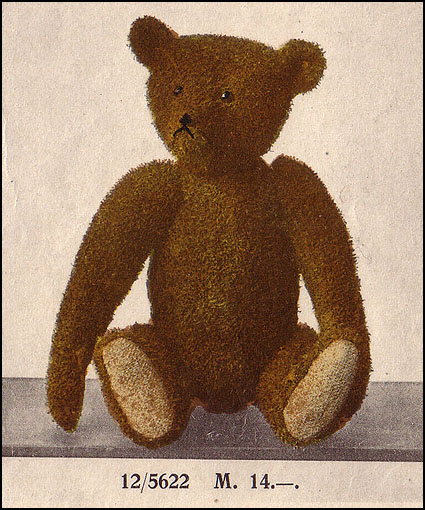 Hier die allgemein bekanntere Version aus Holzfaserstoff, der sogenannte "Papierteddy"
auf einem Katalogblatt von 1919.
The more common but also very rare version is the so called paper Teddy,
made of cellulose plush. Shown on a rare original catalog sheet from 1919.

Copyright: Daniel Hentschel